Internet Download Manager Alternatives
In case you haven't already tried out Internet Download Manager, here are some great alternative options. If you find that this program doesn't meet your needs, you can also try out other open-source download managers such as JDownloader. This free download manager is open source and available for almost every platform. Its key features include downloading multiple files simultaneously, multi-connection support, and support for various file formats. Another bonus of JDownloader is its high customizable interface, which allows you to add themes and modules.
---
DownThemAll !
DownThemAll! adds advanced download capabilities to your browser. It allows you to download all links and images on a site, refine your downloads, queue and resume downloads, and even rename files in the downloads folder. This free download manager integrates with Firefox and fixes a few bugs. For example, you can choose a dark or light theme for the toolbar and specify a download limit for a site.
The extension is free to download and install, but it does require some time to keep up with browser changes. You can report bugs and help with translations at downthemall.org. You can also donate to support the development of DownThemAll!, which does not require any personal information or contain ads. If you would like to support this project, you can visit its website. It's a great way to support a web application that helps people download the files they need.
Download

https://www.downthemall.net/
---
Neat Download Manager
Neat claims to allow downloads to be as much as 10 times faster than conventional programs. Neat also have good management tools, including the ability to preview files while they are still downloading. However, it lacks some features of IDM, such as import/export tools. Another significant disadvantage is that it does not work with all websites. It is free, but does come with ads throughout the program.
Download

https://www.neatdownloadmanager.com/index.php/en/
---
Motrix.
This Mac download manager supports torrents and direct downloads. This download manager supports multi-threaded downloads and offers speed controls and an intuitive UI. You can also schedule downloads and store passwords. This download manager allows you to resume interrupted downloads. It also lets you manage multiple downloads simultaneously and can be customized for your preferences. If you're looking for an alternative to Internet Download Manager, consider downloading Folx.
Download

https://motrix.app/
---
FlashGet is a free download manager for MacOS and Linux.
It offers unlimited download categories and claims to download files faster than IDM. This download manager can also run your antivirus program after each download. It is a simple download manager that integrates with your browser and offline reader. With its ease of use, FlashGet is the perfect alternative to IDM. It is a fast, free alternative to IDM. Just make sure to use PC antivirus software before downloading anything!
download

http://www.flashget.com/en/download.html
---
Internet Download Accelerator is another great free alternative to IDM.
It supports schedule downloads, themes, and multilingual support. The free version can be used for personal purposes and commercially for $9.95. However, you can also buy the paid version of IDA to remove ads. It also offers other valuable features, including a site manager and FTP explorer. Using IDA for personal use is a great option, but it's not free.
JDownloader is another free download manager that has many advantages. Its easy-to-use interface allows you to download files with a single click. It also allows you to manage and delete files, solve CAPTCHAs, and manage your downloaded files. You can even delete files you don't need. This download manager also integrates with the most popular browsers. Its free version also lets you download movies, music, and more!
Download

https://westbyte.com/ida/index.phtml?page=download
---
Another free alternative to IDM is JDownloader
While some parts are open source, JDownloader has many of the same features as IDM. You can set bandwidth limits and solve CAPTCHAs automatically. JDownloader is compatible with macOS and Windows, as well as Java-based systems. It's a good alternative for those who want a lightweight download manager with all the features of IDM. The best thing about JDownloader is that it runs on Java 1.5 or higher. The program also has a powerful OCR module to ensure that no malware will sneak into your downloads.
Download :

https://jdownloader.org/download/index
---
Another free alternative to IDM is Free Download Manager
which helps you to manage your downloads and organize them efficiently. It is integrated with most browsers, including Mozilla Firefox, Google Chrome, Microsoft Edge, and Internet Explorer. The FlashGet download manager can accelerate your download speed by ten times. The most popular alternative to IDM, FlashGet is browser-integrated, but it only works on Windows. This download manager is available in English and Spanish.
Download :

https://www.freedownloadmanager.org/download.htm
---
Free Download Manager for Opera , Chrome and Firefox
the free software version, which is available on the Google Play Store. This program can increase your download speeds up to five times. It can also resume broken downloads and schedule downloads. It isn't offers a 30-day free trial.
Download

https://www.freedownloadmanager.org/
Opera,Chrome and Firefox
Opera

https://addons.opera.com/ar/extensions/details/download-with-free-download-manager-fdm/

Chrome
https://chrome.google.com/webstore/detail/free-download-manager-chr/ahmpjcflkgiildlgicmcieglgoilbfdp/RK%3D2/RS%3DfQzscgKGm9aMezJJ7Gf2Fcc.JSo-
FireFox

https://addons.mozilla.org/ar/firefox/addon/free-download-manager-addon/
---
Xtreme Download Manager 
Download managers are useful tools to speed up the download process on your computer. They can automate the process by dialing up your internet provider at the end of the day or at night, resume broken downloads, and limit the maximum capacity of your downloads. Some managers are even able to schedule downloads and traffic-shape downloads so you won't be disturbed by notifications while they are downloading. Read on to discover the benefits of a download manager.
Unlike most other download managers, Download Manger saves download errors as STATUS_* constants in your system. For instance, if a download fails due to insufficient storage space, you can specify a title for it and see the notification in system notifications. If your device has no external storage device, the download manager will not overwrite existing files. It will also avoid resuming a failed download in case it is unable to find the file.
Download:

https://xtremedownloadmanager.com/#downloads
For Chrome

https://chrome.google.com/webstore/detail/xtreme-download-manager/dkckaoghoiffdbomfbbodbbgmhjblecj
---
DownloadStudio
Another option is the DownloadStudio. It is a multi-platform download manager. It supports multiple file formats and protocols, including FTP and RSS. This is an excellent choice for those who want to download large files in a quick and efficient manner. It works on Linux as well as Windows. And it has a variety of integration options. You can easily switch from one file format to another using a download manager. You can also use a web browser to launch the program.
DownloadStudio. Award-winning download manager. Allows you to create as many downloads as you like. Downloads are automatically queued and managed. Easy-to-read, detailed information is displayed about all downloads.
Download

http://www.conceiva.com/products/downloadstudio/default.asp
---
Chrono Download Manager
Introduction
Chrono Download Manager is the first (and only) fully-featured download manager specifically designed to work with Google Chrome. All download management is completed within the browser rather than an additional download management application. Chrono integrates tightly into Chrome through contextual tools, menus, and keyboard shortcuts.
Apart from managing downloads, Chrono is also your best helper for downloading images and videos. The Chrono Sniffer detects all the links including audios, images, and videos on websites and helps you find any relevant sources using filtering of file types or matching Regular Expressions.
Transfer downloads to Google Chrome seamlessly.
Simply one click to browse downloads using the pop-up menu at any time.
Filters that can be customized to group downloads according to kind, date, etc.
Naming Mask decides the filename based on the properties of the task.
Rule System automatically assigns your files to various folders.
Batch Descriptors to download URLs that have a pattern.
Notifications for desktops and audio notifications on the desktop and sound.
Easy, effective, customisable intelligent, completely cost-free!
Download

https://www.chronodownloader.net/
For Chrome

https://chrome.google.com/webstore/detail/chrono-download-manager/mciiogijehkdemklbdcbfkefimifhecn
---
– Persepolis –
This download manager is an excellent utility for speeding up downloads. It works on both HTTP(s) and FTP. It automatically configures aria2 for maximum speed. It has a graphical interface, and users can adjust the start and end times of their downloads. Another handy feature is the download queue. Persepolis integrates with Chrome, Firefox, and Opera. You can download files directly from the Internet with this tool.
Download

https://persepolisdm.github.io/
https://chrome.google.com/webstore/detail/persepolis-download-manag/legimlagjjoghkoedakdjhocbeomojao

– iGetter – Gny blmyzt
iGetter is a full-featured accelerator and download manager. With iGetter, you will maximize the performance from your Internet connection, whether it's Fiber Optic, wireless, cable, DSL and other high quality broadband connections. iGetter will significantly increase the speed of downloads by using segments (accelerated) speed of downloading.
Additionally, it permits auto resume when broken downloads are attempted and queue filtering based on different parameters, scheduling downloads to periods with low traffic, auto shut down/sleep after completion, and more.

Download:

https://www.igetter.net/downloads.html
– SD Download Manager –
This download manager allows you to capture data from any website. It is open-source, so you can modify its code to optimize its speed. You can even optimize the speed of your download by altering your navigation speed. Moreover, it supports multiple files at once. That way, you won't have to spend time resuming a single download. You can resume it later. With multiple features, IDM is a useful download manager for your computer.
Download :

https://sourceforge.net/projects/sddl/
---
– Advanced Download Manager – Android

If you have an understanding of software, you can install an open-source download manager to speed up downloads. You can also download a file using a torrent, if that's your preference. This download manager can handle three simultaneous downloads, schedule them, and categorize files based on their type. You can also download files with Turbo Mode, which dedicates all your bandwidth to a single download.
Install On Your android Phone:

https://play.google.com/store/apps/details?id=com.dv.adm&hl=ar&gl=US
---
FlareGet
– Ease of use – While downloading,FlareGet Download Managers should be easy to use and have a straightforward interface. A good download manager such as FlareGet will also allow you to directly search for files online. You won't have to sift through hundreds of websites to find the right files to download. Download Managers should be able to download audio and video files from all kinds of sites, including Facebook and YouTube. But you should also choose a downloader that works with your web browser.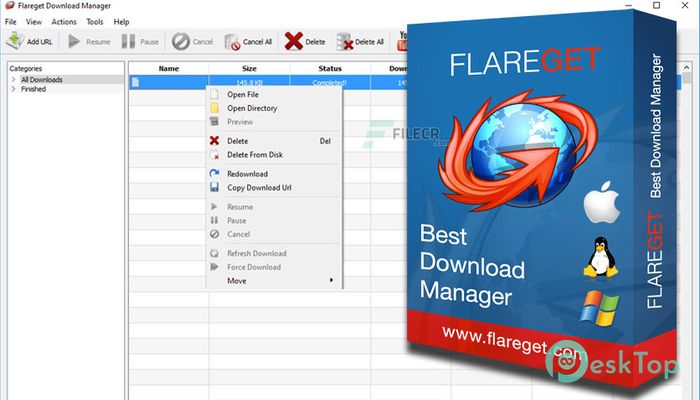 Download

https://flareget.com/download

Install in Android

https://chrome.google.com/webstore/detail/flareget-integration/hoboanjcaobnfchcnlgjhmnmogmnbipb
– Multi-tasking – Download Managers allow you to prioritize downloads in different sections. You can resume a download in case it's interrupted by other tasks, such as chatting or reading an article. Besides, you can download multiple files at a time, and the download speed will be much faster. Another great feature of Download Manager is its ability to resume interrupted downloads and also allows you to add new downloads.
Orbit Downloader
– Speed up downloads – Orbit Downloader is A download manager lets you prioritize downloads by allowing you to resume them if you need to, which is great if you need to finish a particular task quickly.
Download:

https://www.malavida.com/en/soft/orbit-downloader/#gref
Most Download managers can be integrated with web browsers and allow you to pause and resume downloads when you're in a hurry. Furthermore, some of them have integration with web browsers and can be configured to download specific files from archives.
Thanks For Completing Reading this Article You can Get More programs by browsing programs Category or suffering latest programs in Mo3len Gulf Home page .